Students
Meet some of our students in the Jewish Studies Program.
Francine Hardy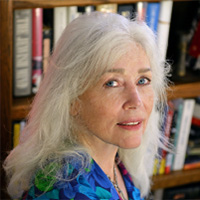 The first stirrings in my being that culminated in my decision to major in Modern Jewish Studies were from the extraordinary film Exodus. For the first time I saw Jewish people as a people before my eyes on the screen – I was enthralled by their pluck and courage, by their amazing strength and resilience despite their poignant plight – what a vision the world was given of these people who had survived the Holocaust. While cinema gave me vicarious visual involvement through such films as Fiddler on the Roof, Hester Street, Defiance, The Pianist, and Schindler's List, the tipping point, the pivot kindling my commitment to immersion in Jewish Studies was the quest to prove my husband Steve's Jewish ancestry coupled with discovering the Jewish Studies Program offered by SDSU.
Having concluded my career as an NICU registered nurse, and encouraging my three children across the finishing line of their university degrees, it was now my turn to pursue my dream, a loved interest, not for money or necessarily a second career, but for the sheer pleasure of learning and engaging in all there is available at SDSU related to the Jewish people and Israel. Those aspirations were met abundantly by courses and professors as door after door was opened into the realm of Judaism and the Jewish people and culture – past, present, and future; here in the USA as well as in Israel and around the world. Thus, was my dream of exploring the remarkable saga of my husband's ancestry intertwined with my pursuit of a bachelor's degree in Modern Jewish Studies.
I have been enthralled by the mystical nature of Jewish religion, but have been equally drawn to their very human history that seems to be a miracle.
Along the path of my journey in Jewish Studies, I have worked as a nurse with asylum seekers under the auspices of Jewish Family Services; I have been honored with induction into Phi Beta Kappa, representing the Jewish Studies Program at SDSU; I have been generously encouraged in my further studies with a scholarship from Aaron and Jeanne Gold; and my husband has gone through his Bar Mitzvah on campus with a Chabad rabbi after which we went together to our first seder. I have fallen in love with the infectious exuberance and enjoyment of Jewish music, culture, dance, and song (especially in Hebrew) thanks to Professor Yale Strom, and found my favorite language in Hebrew writing and speaking thanks to Professor Alana Shuster. Visiting Israeli Professor Tamar Arieli opened the foundational history of the birth of Israel from ancient times to current dates in ways I had never considered nor realized. And Professor/Rabbi Scott Meltzer adroitly ushered me into the theological world of Judaism. In a world where the ebb, flow, and decline of civilizations is the norm, where colors pulsate and then fade away, the Jews, Israel and their story for me, are technicolor.
As I progress in the journey opened before me, I expect to impact my family, my colleagues, acquaintances, fellow students, and as many people as possible with what I have learned and will learn and realize about the Jewish people and the state of Israel - things I never would have known had I not been given such an opportunity, had I not believed and realized "a horizon is nothing but the limit of our sight…."

Sophie Parker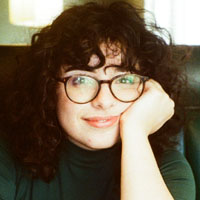 Since I was young, I have always maintained a deep appreciation for the history of the Jewish people and their tumultuous but incredibly rich 4,000-year journey. As the granddaughter of a Holocaust survivor, I feel a certain sense of responsibility to continue to educate and lift up the Jewish people. And as bigotry and anti- Semitism become increasingly prevalent in today's America, this sense of responsibility to my ancestors only grows.
I grew up just minutes from campus, attending Temple Emanu-El. Having that community growing up allowed me to better understand my Jewish identity and where I fit in with such a dynamic culture.
During my freshman year at SDSU, I joined Hillel and became more active in the Jewish community on and off campus. Those first months, I found myself digging deeper into my understanding of the Jewish people and would spend hours online and in classes trying to learn more. However, what truly invigorated me to pursue Jewish Studies was the increasing violence against American Jews. I felt that as a young Jewish individual, I had an important role to play; therefore, my path in life should be a contribution to the advancement and blossoming of the Jewish people. I hope to combat anti-Semitism everyday through education and my commitment to the Jewish community.
Greetings From Israel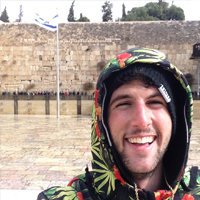 Jewish Studies major, Peter Young, spent a semester at Hebrew University in Jerusalem, Israel. Here's what he has to say about his experience:
Right now I am embarking on an incredible journey. I am living a dream of mine in a way I never could have imagined. I have been living in Israel for two months now, doing things I never thought I would do, eating things I would never eat, and learning things about myself and my heritage that I can only learn right here. I was very lucky to be chosen as one of 22 participants from across the United States in a new, innovative Jewish leadership program called the Nachshon Project. Through the program I have been exposed to incredible people from all walks of life who are doing incredible things.
I have met with Avraham Infeld (the president of Hillel International), Israeli author Etgar Keret, Tamir Goodman (a former professional basketball player), a number of innovative Rabbis, educators, and startup entrepreneurs. We are even scheduled to meet with former Prime Minister Shimon Peres in just over a week. I have never been pushed to think in so many different ways and my love learning is growing each and everyday. Even today, with a full load of classes from 8:30 am to 8:00 pm, I found myself attending a lunch and learn event between classes and staying on campus after my classes to study Talmud with Hillel.
It has been an amazing experience and just living here in Jerusalem is unlike anything else. I have been lucky enough to see a great deal of the tiny country that is Israel through several trips including the one I am currently on. However, there is nothing like seeing the temple mount and the old city of Jerusalem every day when I walk to class. I grew up facing Jerusalem in synagogue, hearing and saying "next year in Jerusalem!" and now, I am just living the dream. This year in Jerusalem!!
Design Your Own Major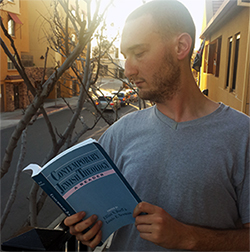 Learn how Devin Egber combined his interests in Jewish Studies to create his own major:
Majoring in Interdisciplinary Studies has been amazing for me. The best part was the fact that I was able to create my own major by combining my three main academic interests, which are Philosophy, Religious Studies, and Jewish Studies. My interests have changed and grown deeper throughout my undergraduate studies. I started off mostly interested in philosophy. After a trip to Israel in the middle of my sophomore year, I started becoming a lot more interested in religious studies and Jewish studies, as many of my questions about philosophy were beginning to be answered by understanding both my own Jewish tradition as well as other religious traditions and worldviews of this world.
As I am about to graduate, I am seeing myself pursuing a path of academic research regarding Jewish thought, specifically trying to answer the question of what it means to be Jewish in a predominantly non-Jewish society. German and French philosophy from the 19th and 20th centuries has really opened my mind and has almost forced me to wonder what, on an existential level, it means to be Jewish, particularly in the wake of the increasingly globalized and technologized world. The Jewish Studies program has provided me with a great opportunity by being a sort of springboard for addressing these interest. I'm so excited to see where I go in the future, even though it has already been such a great time.