News and Events
Upcoming/Recent News and Events
For Budding Filmmakers, English Course Opens a Window to Diverse Perspectives
Two award-winning filmmakers from Israel to teach Techniques of Screenwriting
By Leslie L.J. Reilly
Students dreaming of writing and directing films have a chance to learn from an award-winning independent film director, Ran Tal, who is co-teaching a screenwriting course.
A visiting artist in the Jewish Studies program at SDSU, Tal will teach Techniques of Screenwriting (ENGL-577) with another Israeli visiting artist, Matan Yair, an award-winning screenwriter and filmmaker.
Read the full story on SDSU NewsCenter.
Save the Date! Exclusive Sneak Premier: 1341 Frames of Love & War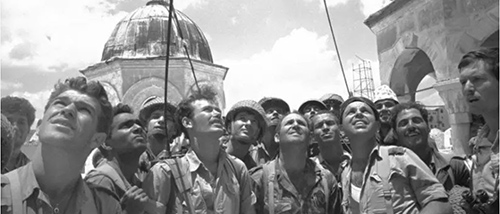 Thursday September 22 | 5:30-8:00 PM PDT
at Museum of Photographic Arts
649 El Prado, San Diego, CA 92101
Tickets will be limited and by invitation.
Registration info coming soon...
Join our partners at the Murray Galinson San Diego Israel Initiative for an exclusive San Diego "Sneak Premiere" of Fall 22 Visiting Israeli Artist Ran Tal's acclaimed new documentary 1341 Frames of Love and War at the San Diego Museum of Photographic Arts. Tal will introduce the film and answer questions.
1341 Frames of Love and War explores the work of Israel's most celebrated war photographer, Micah Bar-Am, mining his extraordinary archive of over half a million negatives, while exploring gut-wrenching questions of purpose and self-doubt in a profound journey of photography, memory, and the personal cost of a life devoted to recording conflict and nation building.
Winner of three key awards at DocAviv Film Festival this summer, Tal took home best director prize while Nilli Feller won best editor award. In addition, the doc won the Kedar Foundation Award for a film inspired by Israel's history and society.

Stories of Ukraine
Wednesday, August 17, 2022
9 - 10 am PST (12-1 pm EDT)
Free Zoom Program - RSVP required

In 2019, a team from the Royal Ontario Museum (ROM) travelled to Ukraine to interview Ukrainians on identity and culture. Follow the project's journey with team members Risa Levitt, Myroslav Shkrandrij, Anzhelika Vengrus, and Daniela Rupolo, and its response to shifting experiences of Ukrainian identity between 2019 and 2022. Through video storytelling and exclusive interviews, the Ukraine Project offers a compelling record of a country's ongoing cultural journey and introduces video recordings as powerful and significant additions to museum collections, exploring the various tangible and intangible ways stories can be told.
Halpern Appears on SDSU President's Podcast
Gilad Halpern visiting Israeli scholar appeared on SDSU President Adela de la Torre's podcast, Fireside Charla. Gilad is a journalist, broadcaster and media historian. He is the News and Current Affairs Editor at TLV1 Radio, and host of The Tel Aviv Review, a podcast dedicated to all things intellectual (and Israeli). He is an Idit Fellow at the University of Haifa, researching the history of the Jewish press in Mandatory Palestine. Previously, he was Managing Editor for Ynetnews and Assignments Editor for Haaretz English Edition. His work appeared on the BBC, Al Jazeera, Al Monitor, Time Out magazine, the Jewish Quarterly and the Jewish Chronicle.
Past News and Events